When it comes to performance art, there are 10 greatest classical performances all times according to Yahoo as written by Wendy Dawn. Performance art  is different from the performing arts because a performance art is not a symphony, a play, or not even a dance. It is a single artist or a group of artists. See rundown below.
Ten Greatest Classical Performances:
• Blue Man Group – it is recognized as the best and most recognizable performance act in the United States. The group appears in blue and performs funny and entertaining mime acts.
• People Begin to Fly by Yves Klein – awarded as popularized performance act. Its uniqueness lies in the fact that Klein painted three models in blue and had them move their bodies on the canvas to create art.
• The Invisible Man by Liu Bolin – is the best contemporary performance art. This is a very popular camouflage art work where the artist disappears into a blend of sculpture and signs.
• World Body Painting Festival 2006 Award Winner by Raphaelle Fieldhouse – is recognized as the Best Body Art as Performance Art. In this art work, the term body art referred to here is a tattoo. It uses the human body as canvas as form of expression.
• Public Service Announcement by Annie Sprinkles – is reputed as the Memorable and Controversial Feminist Performance Art. The artist expressed her artistry and feminism literally in a "bold way". She asked people to examine her vagina with a flashlight and a speculum.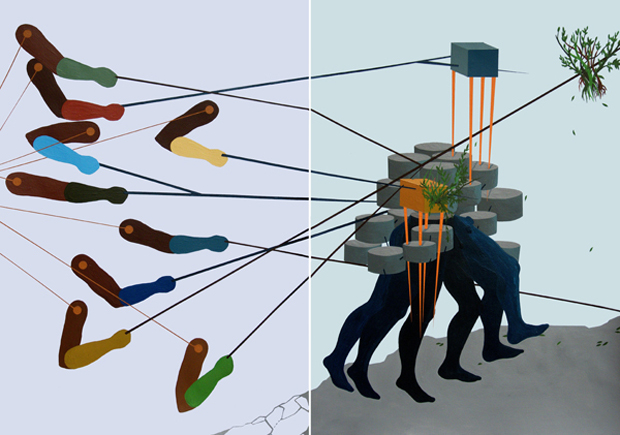 • Living Sculptures by Gilbert and George – is the Best Performance Art award. Gilbert Proesch and George Passmore collaborated in the 1960's to create the most beautiful and creative living sculptures.
• Action Heroes by Alexa Meade – is hailed as Contemporary Best Performance Art. This work of art deals with how the society sees action heroes with parallelism to how males become so-called violent heroes.
• Lady Gaga – is the Latest Edition to the Best of Performance Arts. This musical performer's unique and out-of-this-world costumes establish her as defacto performance artist.\